WellBeing Hygiene Restroom Services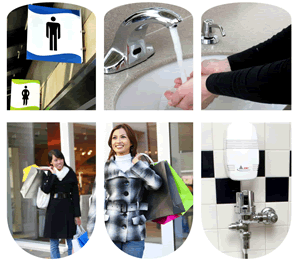 Every day people make decisions about your business, based on the cleanliness and freshness of your restrooms. With over 125 years of experience producing cleaning & deodorizing products and equipment, we are well suited to recognize, evaluate and recommend the most suitable program to eliminate odors in your restrooms as well as to hygienically service your feminine tampon and pad waste disposal bins, thus adding tremendous value to the way your restroom appears and feels to your audience.
Our recent acquisition of WellBeing Hygiene Inc. adds to our ability to provide full-service hygiene technologies and services to decrease the risk of infection, promote proper hygiene practices, and ultimately foster wellness and wellbeing with a touch free environment. Click here for details on WellBeing Hygiene services.
Our Rochester Midland Account Manager will consult with you, utilizing insight, gathered from a multitude and diverse range of businesses, to evaluate your restrooms as they align with the needs of your business, employees, guests or client's, and recommend an appropriate solution.
Our Restroom Hygiene Programs are serviced by our professionally trained, uniformed and committed service professionals, as frequently as required, but, at a minimum, once per month.