ISO 9001:2015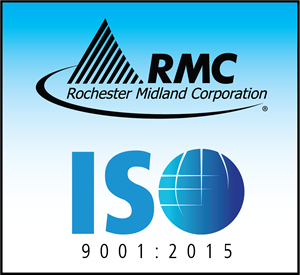 Rochester Midland Corporation is proud to be ISO 9001:2015 certified! RMC ISO Certificate
The scope of the Quality Management System (QMS) is the design, development and manufacturing of specialty chemicals and products for the food sanitation, industrial cleaning, water treatment, and institutional cleaning industries and applies to all operations, design and development activities, products, and services of Rochester Midland Corporation (RMC), including its wholly owned subsidiary in Canada, Rochester Midland Canada Corporation (RMCC).
What does ISO 9001:2015 mean to you, the Customer?
Peace-of-mind that you're doing business with an organization committed to customer satisfaction, quality products and services, reliability, and continual improvement.
Our ability to consistently provide products and services that meet or exceed customer requirements.
The certainty that our Quality Management System will identify and address quality concerns through documented corrective and preventive actions.
The confidence that we review and address risks and opportunities to enhance our ability for desired outcomes.
About RMC's Quality Management System:
Rochester Midland's Quality Management System covers the key processes required to ensure consistency of our products and services within an environment of prevention and continual improvement. Quality assurance and quality control processes are established to ensure conformity of product specifications.
All employees are trained in the importance of meeting customer requirements. Where relevant, employees are trained to ensure compliance with applicable federal and state statutory and regulatory requirements. The quality policy and quality objectives are determined by the Executive Leadership Team and maintained by the President.
Quality Policy:
Rochester Midland Corporation is committed to our quality standards that have been developed and implemented throughout the corporation. These guiding standards are the foundation upon which RMC will strive to achieve customer delight by providing products and services that conform to the highest quality standards.
This commitment will be achieved through the maintenance and continual improvement of our quality management system.
Quality Objectives:
RMC's quality objectives are also the three key components of RMC's Quality Policy, which are:
Provide products and services to our customers that conform to the highest quality standards;
Delight the customer;
Promote and execute continual improvement