Boiler Water Treatment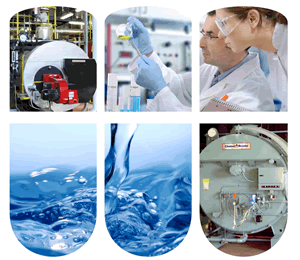 Sustainable boiler water programs from Rochester Midland Corporation will maintain clean heat transfer surfaces and protect your costly equipment. Our comprehensive water management programs will ensure continuous operation of production equipment and comfort heating, eliminating costly downtime and maximizing energy efficiency.
By choosing RMC your people will benefit through:
Training on the proper use, testing and control of chemicals for safety and savings.
Using automation for less labor or manual work.
Our planet will benefit as you lower your carbon footprint and reduce chemical usage and discharge by:
Saving fuel through better heat transfer
Saving BTUs through blowdown heat recovery & pre-heated feed water
Saving fuel, water & chemicals with increased condensate return
Your profit will increase when you save money by reducing energy, water or chemical use.
Our Technical Specialists will work with your facility to implement joint process improvements that are sustainable and will save on operational costs.