LEGIONELLA RISK MINIMIZATION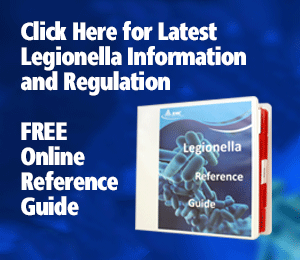 The Legionella bacterium was directly correlated to the illness and deaths at the Pennsylvania American Legion Convention at the Bellevue-Stratford Hotel in Philadelphia during the summer of 1976.
Legionnaire's disease can be transmitted when susceptible hosts inhale mists containing Legionella Bacteria. Cooling towers and evaporative condensers - both of which are wet-type, heat-rejection devices which produce large volumes of mists that are often contaminated with Legionella - have been found to be sources of outbreaks in a number of published and unpublished investigations.
JCAHO EC 1.7 Compliance As of January 2001, health care facilities accredited by JCAHO must have a management program to "reduce the potential for organizational-acquired illness." The new standard, numbered EC 1.7, holds health care facilities responsible for "managing pathogenic biological agents in cooling towers, domestic hot water, and other aerosolizing water systems."
In the UK and in other European nations there has been a tremendous concern over the health and legal implications of Legionnaire's Disease, resulting in government regulations and mandatory periodic cooling tower sanitation. Rochester Midland's Risk Minimization Program offers a way to demonstrate "reasonable care" against potential litigation and associated health risks. This program consist of three components:
Proper water management programs as defined by CTI, and implemented by your staff and RMC.
Independent lab certification that system water is Legionella free at time of sampling.
Compliance with JCAHO EC 1.7
Rochester Midland will work with your organization to develop a management plan describing how to establish and maintain a utility systems management program to reduce the potential for organizational acquired illness. The plan provides processes for managing pathogenic biological agents in cooling towers and other aerosolizing systems and includes the alternative solution of using ozone as a biocide.