Food Service Sanitation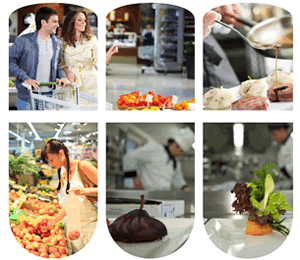 Your goal is to provide safe and wholesome food products for your customers. Food Safety is our number one priority. With over 30 years of experience in the food processing industry, we now provide the same benefits to food service establishments.
Our sustainable food service sanitation programs for supermarkets, restaurants, quick serve establishments and cafeterias include:
Cleaner and degreasers for floors, equipment and hard surfaces
Sanitizers
Dish detergents
Drain cleaning and sanitizing programs
Application equipment
Restroom Services and front end green cleaning, floor care, and carpet maintenance solutions
Employee safety and application training
Service partnerships with food service inspections, equipment maintenance, and detailed reporting
Contact us to learn more about our sustainable food service sanitation programs.